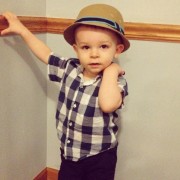 By know, you've probably seen more than a few photos of Christian with his adorable hat. As of a few weeks ago, he's gotten the hang of putting it on himself, which makes for an equally adorable scene.
Time to grab the iPhone and capture ourselves another video, right?
Forgive the video quality, the lighting wasn't great inside Chipotle, but I did my best to adjust for it with a quick fix in iMovie (probably making it worse).
Who doesn't like peek-a-boo with an infant, right? Well, here's a bonus from Grandma's birthday dinner back in January.
Too cute.
The other thing he's started doing now – but haven't caught on video, yet – is putting that blanket over his head and then walking around the house. As much as we'd like to record that, we're more concerned about making sure he doesn't run into anything first.
– Kris