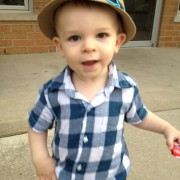 Time for another one of Christian's adorable habits, this time, something he does every time we get home (assuming he's not sleeping).
As long as he's been able to walk on his own, he's been obsessed with pushing the button on the elevator in our building. It seems like only last week when he was just half an inch away from hitting that button, but now it's the first thing he sees when we walk in the door.
While not exposed to many stairs growing up, he rides in elevators like a pro. And as you can see here, he's a riot to watch doing it, too.
– Kris