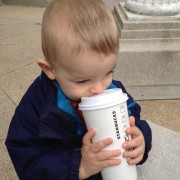 Time for another catch-up post with another recent video.
This is one from April, and before you get the wrong idea…the cup is empty!
The running joke is that Christian has probably seen Papa drink about 500 of these venti chai's from Starbucks since he's been born, so the moment he got his hands on an empty cup, he knew just what to do with it.
He seems to be using it more as a teething ring than pretending to drink from it, but it's still cute.