Even before Christian was born, Cindy and I already preferred having music playing in our house rather than having the television on (Hawks games, excluded). In fact, we've been bringing around our portable iPod speakers almost everywhere we travel, too. So, when it came to packing Cindy's bag for Labor and Delivery and her recovery stay, we made sure we had them packed.
While in recovery, we had music playing almost the entire day, and all of the nurses would comment at one point or another on how relaxing and peaceful it was in our room. Indeed, it helped both baby and us having various soothing sounds in the air.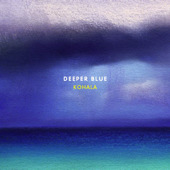 One of albums that worked well for putting Christian down was "Deeper Blue" by Kohala. It was originally something we were planning to play during labor and delivery, too, but that didn't exactly go according to plan now did it?.
We've been listening to Kohala for quite a few years now, starting back when we first visited Hawaii and Cindy's aunt and uncle gave me a CD for my birthday. They also had a track on the Starbucks "Mele O Hawaii" CD, too, which is great. Friends of ours know that our son will most definitely grow up with a Hawaii influence in his life, so why not start in his first few days, eh? :)
More Music
Over the following weeks and months, I'll likely share some of the other playlists that we have playing in the nursery (and it's not all Hawaiian). Will be neat to come back to this in a few years (or a lot of years) and see how much of it he still likes.
– Kris