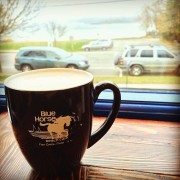 The quick version first, and then the back story…
We're in the hunt for a nice, little coffee shop (or shops) in our general vicinity to enjoy a little quiet, down time once a week.
And now, the back story.
Back Story
We're just back from our 12th trip to Door County – sixth with Christian – and while we're up there, we've grown fond of the little coffee shops we get to visit. But back home, it's a completely different story.
Much to the chagrin of our bank statements, but the delight of their shareholders, we're chronic Starbucks patrons. It's not a terrible habit, mind you, as there are definitely worse. And it's better than it had been at it's pique, that's for sure.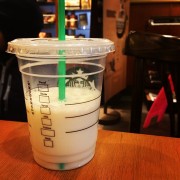 Ever since they opened up a location less than a mile from our home, it's been part of our routine. Sometimes even nightly:
Cindy comes home from work,
we go over to grandma's for dinner,
we stop at Starbucks on the way home.
There are other variations as well.
Such as the dinner at IKEA, frozen yogurt, and Starbucks afterwards trifecta, or the summertime Starbucks in Park Ridge while walking around the Uptown area.
It's a happy time, and part of the evening after a long weekday that I personally look forward to. More so now that Christian has gotten older and (sometimes) is able to sit still long enough for us to enjoy our drinks in the store itself.
He's even started warming up to some of the baristas now that they're becoming familiar faces, and on occasion, will order Papa's drink for him. Ignoring the fact that the baristas already know it by heart, of course.
Something More
The routine is nice, and I don't foresee it changing anytime soon.
But this most recent trip up to Door County has me craving something more as well.
Some "Mama and Papa time", if you will, with Christian at home and us just enjoying maybe an hour by ourselves once a week.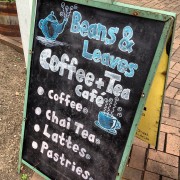 Sure, it could be at our local Starbucks location, but just as much as we look forward to the small coffee shop charm in Door County, it'd be nice to find something like that here as well.
I started quick searches on Yelp and Urbanspoon, but something tells me it's not going to be that easy.
So, as we sniff out a few leads and give this little project a shot, I'll post tidbits here to the blog from time-to-time. I know, you really just want to see photos of Christian, but bear with me anyway. :)
And if you happen to have a secret coffee place in the Northern Suburbs that you wouldn't mind sharing, please don't hesitate to share it here or on Facebook.
There may even be a bounty in it for you, if it turns out we fall in love with the place you recommend. Mind you, that bounty might end up just being a month's worth of coffee or something, but don't let that stop you.
All the best,
– Kris