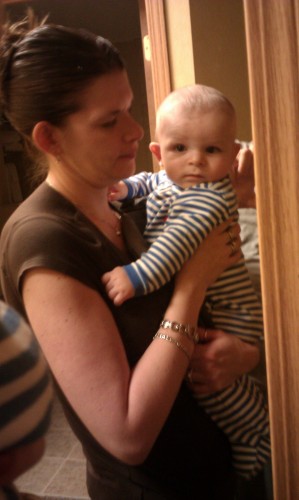 Finally, we get to update our Travels page.
It took four months after Christian was born, but we finally back on the road again now that we're hauling ourselves around in a bigger ride. Less than three weeks since trading up, we're already out here in Iowa so our little guy can meet his grandma, aunt, and uncle. We're halfway through the visit, and besides a few moments, he's been taking well to traveling.
The Long Haul
The trek started Thursday afternoon, with us packed and leaving town around 2:30pm for what is mapped out as a 420 mile journey in just over 7 hours. With traffic and weather cooperating, we made good time while actually on the road, but a few longer than expected stops put us into our hotel just before midnight.
We'll learn from this for our drive home on Sunday, but for his part, Christian handled it well. We made it all the way to our second stop – the world's largest truckstop – without him getting too fussy. That was almost 3:30 hours of road time of being tucked away and sleeping in his car seat. Not bad.
Off his usual schedule, though, meant his afternoon meal during that stop wasn't the easiest, and therefore set us back. Getting back on the road was a little tougher, too, as once he was up out of his car seat and fed, he wanted very little to do with getting back in.
But we did make it, though, and just like running a marathon, the last leg seemed to be the longest. With Cindy riding in the back with Christian, they both were resting until about the last 30 minutes to the finish line before he woke up. With no real chance to stop and feed him, we pushed on forward and Mama worked her magic (like only she can) to keep him tolerable before we arrived.
The last hurdle was then, after sleeping in the car all day, trying to get him to sleep after his final feeding of the night. With Papa absolutely drained from what turned out to be nearly 10 hours behind the wheel, Cindy had Christian sleeping at around 1:30am. What a day!
The Road (Trips) Ahead
Logging over 1,000 miles round trip on this visit is about the furthest from home we venture by car. Our plans for next and future visits are easily shorter drives. Right now, they include getting back to Door County, WI after Memorial Day, a visit to Lake Geneva, WI and Kris' great-grandmother (Christian's great-great-grandmother) and possibly back to South Bend, IN to visit Cindy's friend, Nabeela.
With all this travel time, it should help Christian prepare for what we're hoping to be another trip to Maui come August. The kicker there is, even though we're talking about 10 hours of flight time one-way, we at least get to walk around, take turns holding him, and will even have Grandma with us. Plus, he'll be going on 9 months old by then, if you can believe that. He's going to be almost a completely different child ability-wise from now to then.
Needless to say, we can hardly wait. :)
– Kris