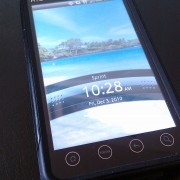 I found out earlier this week that I was eligible for an early phone upgrade with Sprint, probably because we've been customer since back when they were Cellular One (and even had pagers for crying out loud). Being the gadget junkie that I am, and with Christian expected to arrive any day now, I just had to jump on it. Besides, who knows when I'd be able to leave the house after he's born, anyway.
So, I went for top notch and grabbed the HTC Evo. Now, I'm all set to start sharing the joys of a newborn as they happen. In fact, I'm writing this post from the doctor's office while Cindy is having her weekly NST (non-stress test). Finally an on-screen keyboard I can be happy with.
Now, don't be expecting any live video streams from the delivery room, that would just be wrong. But, once mommy and baby get their quiet time together after his grand entrance, you can be sure to expect a few clips of our new, happy ohana.
It also helps for our friends 4,200 miles away to get to see our future Maui fan before they meet him in person in August.
Well, 7 days to go.